More Information
Functions
We have the ideal venue to host your function, whether a christening or baby shower, birthday, engagement or wedding party or a friendly and private environment to hold a wake for a loved one.
We are well established and with a new fully refurbished venue and fantastic in-house catering, we can provide you with everything you need for your occasion.
Please find below, examples of the fantastic buffets we can provide through our in-house catering, with prices to fit any budget.
With a well-appointed bar, excellent food, large and spacious function room and large private beer garden we are the perfect place for you to consider.
If you would like any further information on prices and availability, then please ring us on 01446 722227 and one of our team will be able to help.
Xmas Parties
Please find attached a copy of our Xmas menu for the coming festive season. We are taking bookings now for any size group so if you are looking for a new place for this year's Xmas party then please consider us for this festive season. Please ring 01446 722227 for more information or to book.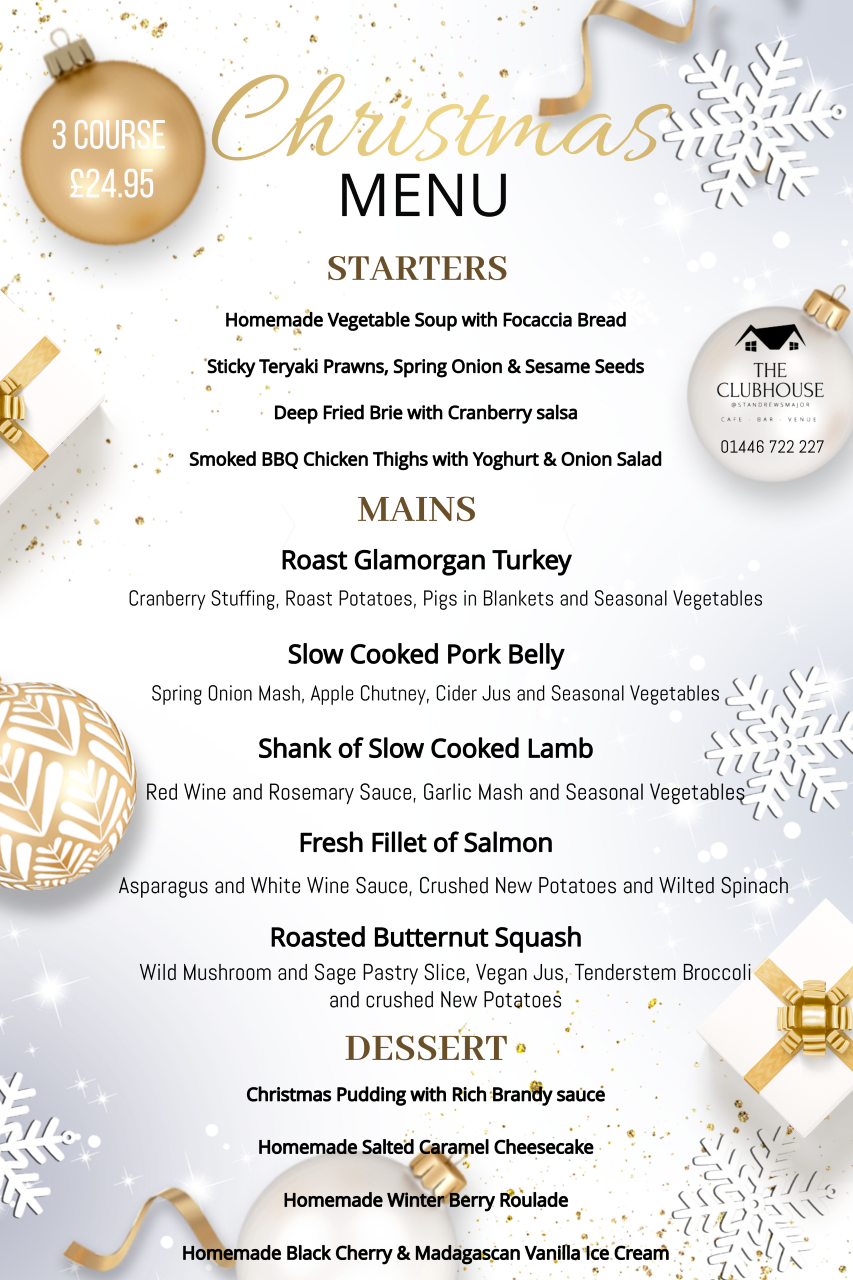 Terms and Conditions
– All functions bookings must be confirmed, with upfront payment of room hire. This is a non-refundable deposit and required to confirm the booking of the room.
– Details of the maximum numbers of guests attending the function must be provided no less than 7 days before the function.
– All guests must be catered for and the the number of guests that have been confirmed for the function must not be exceeded. A flat rate charge of £250 will be payable on the night for total guests exceeding the agreed figure.
– Functions of 60 people and under can have exclusive use of the Conservatory and beer garden only.
– Functions of 60 -90 people must book the whole venue.
– Room Hire rates available on enquiry.
-No table decorations such as confetti, candles, party poppers etc. No decorations to be sellotaped or blue tac to walls or windows. Weighted balloons and other such table decorations are permitted.
– No tablecloths are provided for functions
– No Discos are permitted at present. We have a new soundsystem installed and offer the option of playing guests own Spotify lists etc.
book now
St Andrews Major
Coldbrook Road East
St Andrews Major, CB63 1BL